Mahira Khan's Biography

source link google.com.pk
Mahira Khan
An Interview with Mahira Khan about her journey to a career in Showbiz
Mahira has struck it big with her drama serial "Humsafar", based on a novel written by Farhat Ishtiaq and directed by Sarmad Khoosat, creator of sitcom "Shashlick". And we're not talking about just any big, but instant-recognition-by-Pakistanis-world-over, Bollywood-offers-on-the-table, moral-policing-aunties-scrutinising-her-every-move big. For most people,
Mahira is simply Khirad, the small town girl with stellar principles that she portrays in "Humsafar".

Before "Humsafar", Mahira was lost as an actor. On the sets of Bol, Shoaib Mansoor didn't give her much direction, preferring to let her be. Mehreen Jabbar taught her how to discipline herself as an actor, but it was Khoosat who gave her the faith. "He would sit with me during the times I would doubt myself, and tell me, 'You have no idea what you can do'."

Real life for Mahira is her family: her childhood love of a husband Ali who is working on creating Pakistan's first animation series for television. Family is also her 20-month old son Azlan, who accompanies her on foreign shoots. And, of course, her friends – Feeha Jamshed being one of her closest – for whom she has also sacrificed mid-term exams for they are inseparable. She is a role model for the modern Pakistani star: beautiful, confident and great at multitasking.

Mahira did her "O" Levels from Foundation Public School.When Mahira was 16-years-old and had just finished her O-levels from Foundation Public School, she felt this uncontrollable urge to head to America. "I wanted to get out of here," she said, "I was eager to get out of Karachi and live life abroad, on my own terms." and went off to University of Southern California for an undergraduate degree, but never completed it.

Throughout high school and college in Los Angeles, Mahira worked odd jobs and her first stint was as a cashier at Rite Aid. "I had to do everything there: Mopping floors, cleaning toilets, running the till and shutting the store at night," she says, laughing as she looks back at those days.

Mahira grew up in a joint family system with her paternal grandparents, dado and dada, living with them, and her phupho's family and cousins residing next door. Shifting to the United States, after having lived such a sheltered life, was somewhat difficult but Mahira was determined to make it work. "Looking back, it's difficult to explain exactly why I was so adamant about staying in the Unites States but I really felt I needed that time to grow and explore," she reminisces.

There were times when Mahira would be working two jobs, and would be drained by the end of the day. But the feeling of making it on her own is what liberated her and kept her going. "The one job that I hated the most was at Express," she said. "All these fat women coming in, posing in front of a mirror and asking me questions like, 'Are these jeans perfect for me,' really got to me. I found that job super annoying."

It was in Los Angeles that Mahira met Ali Askari, her future husband, and it was Askari who almost accidentally led her to a lifetime of being in front of the camera.

Mahira had never thought of acting as a VJ on MTV Pakistan and was studying in Los Angeles, U.S.A. from whence she came to Pakistan to enroll at the Indus TV network for an internship in marketing. The day of her arrival marked the sudden end of the careers of two of the VJs at the network. Ghazanfer Ali, CEO of the television network insisted she took the lead where the two left a void and hence she got a show for herself.

t was during a vacation back home, when Mahira went to pick up Ali Askari from MTV, that she ran into the man who would change her life just like he had changed so many other lives before her: Ghazanfar Ali. "MTV was new and upcoming at the time, and Ali Askari was working there when I met Ghazanfar sahib," remembers Mahira.

It was a meeting Mahira wasn't likely to forget: Ghazanfar took one look at her and said: "Come and become a VJ!" Shocked and eager to head back to the United States to finish college, Mahira simply laughed and said, "I don't think so."

But Ghazanfar Ali persisted, Ali Askari helped him and Mahira ended up saying yes with the understanding that she would only stay on till her vacations.

"I really began enjoying it," confesses Mahira. "I had never done anything like this before and so it was an experience, and every day was just so much fun with all of us hanging out together and just figuring out things as we went along."

It was during the early days of MTV that Ali Askari proposed and, much to the chagrin of her father, the 21-year-old said yes. "My father was definitely against this decision of mine and thought I was throwing my life away but it felt right to me and so I did it," she said.

Exactly a year after Mahira was launched by MTV, she left the channel and joined Geo television's youth channel, Aag. "I think I had done everything I could possibly do at MTV and so I was eager to try something else," she said. "Geo asked me to do Pakistan Idol and I thought that was an exciting and unique opportunity."

Of course Pakistan Idol never happened and so Mahira ended up staying home and getting extremely bored till Aag television put her on air for Weekends with Mahira.

"The time that I left Indus television and sat at home, doing nothing basically, was a huge low point in my life," she said. "Being in front of the camera is addictive and I was left just sitting at home and staring at the walls after having been in front of the camera, five times a week."

It was during this time that she was offered a role in what seemed like a brilliant play Malaal, by Mehreen Jabbar. "It was going to be shot in New York and I was really looking forward to working with a director as intelligent as Mehreen Jabbar and I couldn't wait to get started," she says.

But a week before she was supposed to fly off to America, Mahira discovered that she was pregnant. "I couldn't do the play anymore and though I was ecstatic about being pregnant, I was really bummed about missing the play," she recalls.

When her son was a couple of months old, Shoaib Mansoor called her up and said he wanted her to act in his next film. "When you get a call from Shoaib Mansoor you are like, 'Oh my god! Is this for real?' But instead I told him that I would think it over and call him back."

The next day she said yes, and soon Mahira,with her parents, baby and breastfeeding pump in tow, made their way to Lahore. Shooting for Bol was stressful because every two to three hours Mahira had to disappear to pump milk for her son, who was being looked after by her parents.

And if Bol was something Mahira had been eager to do, Humsafar was almost an obligation she felt she had to fulfill.

Momina Duraid, the head of Hum TV Productions, had offered numerous plays to Mahira but for various reasons they never worked out. "I felt I owed it to Momina as I had promised her that I would work on a play with her," says Mahira.

It was only once she began reading the script in detail and the filming process started that Mahira realised what a phenomenon Humsafar was going to be. Based on a sweet and simple story of love after marriage, the play thrives on the subtleties of the relationships between the three main characters played by Mahira, Fawad Khan and Naveen Waqar, and has developed a cult following.

"I think Humsafar is one of those plays where somehow everything worked out," says Mahira. "It happens rarely but when it does, it's magic! We were talking about this the other day and while we all might go on to do other great plays, there isn't going to be another Humsafar."

For now Mahira is inundated with scripts for other serials but she knows it would be next to impossible to surpass the success of Humsafar, which is why she is taking her time to figure out which project to say yes to.

"I am also a mom so things are never that easy," she says. "I had to say no to a project in which almost the entire Humsafar team is involved simply because I couldn't travel abroad for two months and leave my son behind."

How do you want your fans to perceive you?
I'd rather people were curious about what I have to say rather than what I am wearing. We're not living in the fifties anymore. We have to come to terms with the fact that stars nowadays will be different. They will not have that enigma about them because there's no way the media will let them be. I would like to be true to myself. I'd like to be a role model for the youth so that they can connect with me.
Mahira Khan


Mahira Khan
Mahira Khan

Mahira Khan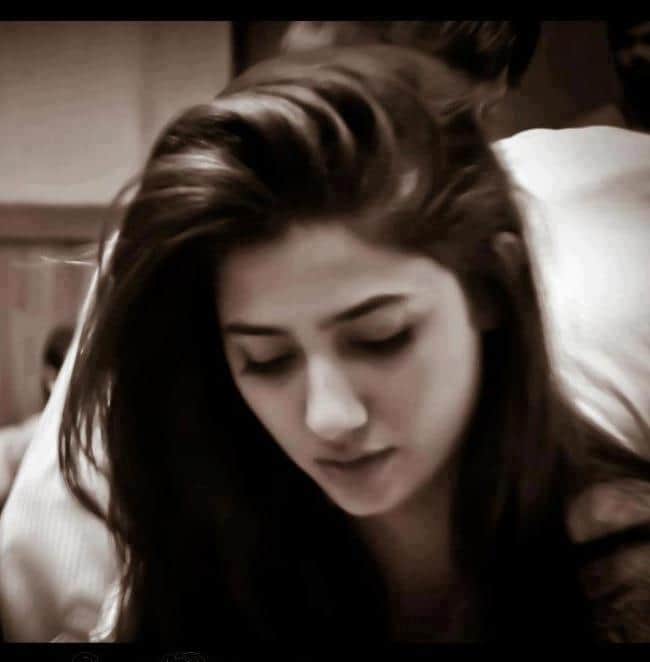 Mahira Khan

Mahira Khan


Mahira Khan
Mahira Khan

Mahira Khan

Mahira Khan